Luxury Villas & Apartments in Estepona with the Wow Factor
Villas with that elusive extra something could have cutting edge design, breathtaking views, great location or a beautiful unique interior to name just a few.
This page contains 2 villas and 2 apartments
Tip: You can change the filter the results on this page using the options above and change the dates using the search box >
Please do not book flights until you have received a confirmation email of your booking.
£3150 - £3150 per week
€3843.00 - €3843.00 per week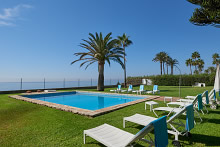 Private Pool (10m x 6m)
Beach front
Sleeps 9 in 4/5 bedrooms
2 x bathrooms, 2 x shower room & 1 x guest wc
Fully air-conditioned (main house)
WiFi ADSL Internet
Table tennis table
Car hire not needed
Beach Front villa
One of my all time favourite villas!

A fabulous beach front villa with unparalleled views across the Mediterranean and direct access onto the beach from the garden.

Located walking distance to Estepona Passeo - this unique property is just perfect for a relaxing holiday by the sea.
£1350 - £2495 per week
€1647.00 - €3043.90 per week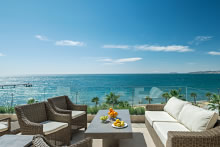 Large outdoor pool
On site gym
Sleeps 6 in 3 bedrooms
(3 x king)
2 x bathrooms, 1 x shower room
Fully air-conditioned
WiFi ADSL Internet
This exclusive beach front development of 13 luxurious apartments enjoy the most amazing uninterrupted sea views. Set in Mediterranean gardens and only a short walk to Estepona Port. Fantastic for an all year round vacation with a beautiful outside pool, direct access to the beach and indoor spa.
£1095 - £2250 per week
€1335.90 - €2745.00 per week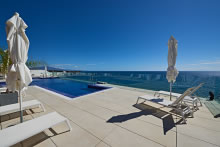 Central Estepona town apartment
Large outdoor pool with Jacuzzi
On site gym
Sleeps 6 in 3 bedrooms
(2 x king & 1 x twin)
3 x shower rooms
Fully air-conditioned
WiFi ADSL Internet
This exclusive urban, beach front development of 36 luxurious apartments enjoy stunning sea views. Located only a few short steps from the golden sandy beach of La Rada with its many beach bars and restaurants, Darya is located perfectly for your car free holiday.
£945 - £2045 per week
€1152.90 - €2494.90 per week
Special Offer September 3 - 12, 9 nights for the price of 8, £1822.86 (list price £2050.71). May 28 - June 4, 7 nights contact for details.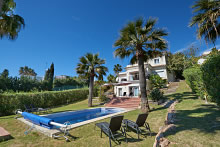 Private pool
Sleeps 7 in 4 bedrooms
(2 x super king, 1 x twin & 1 x single)
2 x bathrooms, 1 x shower-room
Air-conditioned (except single bedroom)
Wi-Fi ADSL Internet
Walkable to the beach
Casa la Colina - A stunning, Nuevo Andalucian style villa with fabulous views of the Mediterranean sea. This Villa is something rather special for your relaxing vacation. Located a 10 minute walk to Areana Beach and just 3km from Estepona Marina & 4 km from the well known La Rada beach.