About the Town of Estepona, Spain
What to do, see and experience on your visit
Where is Estepona?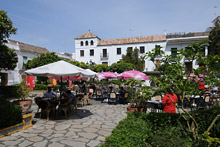 Estepona town located to the west of the Costa del Sol, Southern Spain - at the foot of the Sierra Bermeja Mountains. Estepona is well known for its lovely beaches and tiny coves which stretch along 20 Km of coastline. At the western end of the Paseo Maritimo is Estepona's charming port and harbour that is located only a short walk from town.

Estepona is peppered with many excellent restaurants and lively bars for you to enjoy. In history and culture the town remains unspoiled and the warm and friendly people preserve tradition with pride. Estepona's narrow, cobbled streets and quaint little shops just add to the charm of this lovely town.
A little bit of History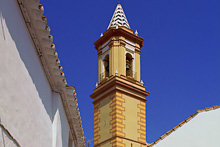 Little is known about the history of Estepona town, as record books were lost during the Civil War. Its history involved the Phoenicians, the Romans and the Moors. The latter, settled in this region for the longest period, and left many defensive cultural remains such as walls and watchtowers, unfortunately many have not been saved.

Today you can encounter 7 ruins of watchtowers along the beaches of Estepona. These are either Castilian or Muslim in origin and helped form the defence of the coast well into the 19th Century, and proved effective in holding off attacks from pirates that came from North Africa and Turkey.

Estepona has four small museums. They are all located in the Estepona bullring and open from 09.00 to 15.00 Monday to Friday and from 10.00 to 14.00 on a Saturday all year round. There is no admission charge.

The Museum of Archaeology remains form the Palaeolithic era, some 100.000 years ago.
The Local Museum include a range of old farming and fishing implements and tools.
The Museum of Palaeontology (Fossil) contains over 2000 fossils from 600 species.
The Bullfighting Museum large selection of exhibits associated with bullfighting.

Exploring Estepona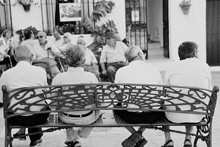 The old town of Estepona is famous for its attractive architecture and traditional houses. Here are a few places worth a visit:

The Church of Our Lady of Redemption (18th Century) used from 1725 until 1766 as a monastery. The entrance combines iconographic, Marian, Franciscan and colonial elements.
Remains of the Castle Wall (15th Century) an ancient fortress.
The Clock Tower (15th Century) the remains of a church, which boasts as the oldest ecclesiastical building on the Costa del Sol.
The house of 'Borrega' (18th Century) one of the oldest houses in Estepona, with interesting period architecture.
The house of 'Marqués de Mondéjar' (18th Century) an interesting example of aristocratic architecture.
The church of 'Nuestra Señora de Los Remedios' (18th Century) situated in the Plaza San Francisco and built of local sandstone, which is rich in iron ore. As you walk around the outside walls, you can see many pieces of iron ore still embedded in the stone blocks.
The Watchtowers - 7 can be found along the beaches of Estepona.
Remains of 'El Nicio Castle', in the upper slopes of the area known as "El Padrón" lie the ruins of a 9th Century fortress, from which the walls and several towers remain.
The Ruins of 'Castillo de San Luís' (16th Century) a great castle that once stood at the heart of Estepona.
The Bullring opened in 1972, its asymmetric design by the architect Juan Mora Urbano, makes this bullring the only one of its kind.
Plaza de la Flores is Estepona's main square and is a busy focal point of the town.

Fun and Festivities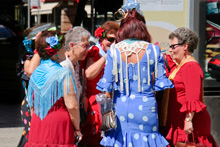 You haven't experienced the real Spain until you enjoy one of Spain's many festivals. Over 3,000 fiestas are celebrated every year in Andalucia, including fairs, pilgrimages, carnivals and religious processions.

Three Kings, 'Fiesta de Los Reyes' - on the evening of the 6th of January 3 kings riding on horses scatter sweets to crowds of excited children.

Carnival - is celebrated before the 40 days of Lent. Most towns have a parade, and there is usually a dance, elaborate costumes and a "Carnival Queen" contest. The Carnival centres on Shrove Tuesday. Most towns celebrate the carnival with processions either the weekend before or after. Larger towns have festivities lasting all week.

Easter - Semana Santa or "Holy Week" - the parade leaves the town's church and winds slowly around the streets. This is a serious fiesta, fireworks are not permitted and drinking alcohol is frowned upon. The processions take place during the week leading up to Easter Sunday.

La noche de San Juan (the night of San Juan) - usually falls on the 23rd or 24th of June celebrating the longest night of the year and the beginning of summer. Family and friends gather on the beaches with BBQ's, bonfires and music, partying all through the night. At midnight there is often a spectacular fireworks display and the tradition is to paddle backwards into the sea at midnight, so cleansing the soul. This is a fun evening for all the family so don't forget your swimsuit!

"Tourists' Day" August 15th - various events are organized for the enjoyment of visitors including competitions, stalls selling souvenirs and gifts, singing, music, dancing.
Feria Week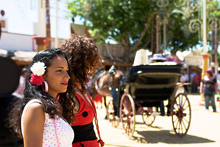 Every town and village in Andalucia has its own 'feria' or fair. They all have music, food, drinks, stalls, rides and your chance to win that pink furry toy by hitting a balloon with a wonky dart. The Spanish love to party and feria week is no exception. Summer feria week is different in every town so …wherever you are in Spain it seems you can find a feria every week!

Streets are closed to traffic, shops shut, tables and chairs are set up, and bars serve food and drink in the street. Music is played throughout the day and people of all ages enjoy singing and dancing. Visitors are always welcome.

At night, the fair shifts to the public fairground or "recinto ferial" on the outskirts of the town. There is a traditional amusement park with lots of rides, things to win and music for all ages to enjoy.

Here are dates for Ferias in the surrounding areas:

Marbella - 2nd week in June
Estepona - 1st week in July
La Linea - 2nd week in July
Malaga - 3rd week in August
Mijas - 2nd week in September
Torremolinos - Last week in September
Fuengirola - 1st week in October
San Pedro - 3rd week in October

Bullfighting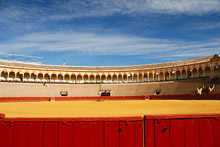 Spain has always been well known for its bullfighting. In Spain they are called 'Fiesta Nacional' (The national Sport). The season stretches from April to October and is very popular with the locals. There are about 70 bullrings in Andalucia. Seville is the most important and Ronda is the oldest.

In Estepona there are about 16 bullfights held annually, usually on a Sunday afternoon. The most popular is the one that takes place during the town's feria at the beginning of July.
Shop till you drop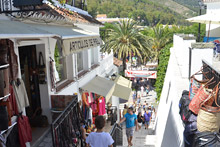 Most shops are situated in the town centre of Estepona on 'Calle Real' and 'Calle Terraza'. If like me you have a love for clothes and shoes then you'll enjoy shopping in Spain. Estepona has some charming boutiques selling fantastic clothes at reasonable prices. Shoes are a good buy as Spanish leather made shoes are good quality and well priced. In general leather goods are reasonable and in the sales you can pick up some excellent bargains. Also, in Estepona there are a good number of craftsmen who work with pottery, commissioned woodwork, marble sculpture, iron forging, metal furniture, tapestry, etc.

Laguna Beach Village is a new upmarket shopping area just to the east of Estepona - including Armani, Boss, Escada Sport, Loewe, Elle Morgan etc. There are several restaurants including Trader Vics & Fashion Sushi Bar. You can also spend the day at Puro Beach Club which is a really cool hangout … it's a beautiful decked area with stunning white beds and tents and a lovely pool, but please note that children are not allowed! There is a choice of sunbeds, singles to doubles, with shade, tents etc. Prices range from 20 euros to 160 euros. Its like its own little piece of heaven, all white and tranquil. There is a restaurant, bar and you can even do yoga there. For full details see www.laguna-village.com

Marbella and Puerto Banus is home to the rich and famous. Marbella itself has a lovely shopping and historic area centred around the Orange Square. There are many high quality, elegant clothes shops and designer boutiques.

La Cañada Shopping Centre - Marbella La Cañada is probably the most popular Shopping Centre in Marbella, there is also free parking. Shops like Fnac, Salsa, Guess, Guess Kids, Kiko MakeUp, SKINC & Dreisog Surf. There is also the biggest Apple Store in Spain. Alcampo is still by far the best Supermarket which sells everything under one roof and the nearest thing to the Tescos & Sainsburys. There is also a large DIY store - Leroy Merlins and lots of restaurants to choose from.
Market Mania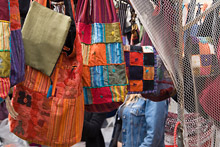 If you're like me and enjoy a good wander around a lively market then try one of these:

Estepona Tourist Market - Sunday Morning (10am - 2pm ish), Estepona Marina. You will find most things here including: gifts, leather, shoes, fake Rolex watches, fake Gucci, Armani, YSL sunglasses, music, jewellery, souvenirs, arts & crafts etc.

Estepona Town Market - Wednesday morning, big open-air market on 'Avenida Juan Carlos', fresh fruit and Vegetables, clothes, shoes and general house-wares.

Estepona Covered Market - Daily am only, near the castle and Plaza del Reloj, fresh fruit and Vegetables, meat and fish.

Puerto Banus Market - Saturday morning at the Bullring. This has to be my favourite market as it is an interesting place to wander around and great to pick up a bargain or a holiday gift. Selling Moroccan goods, crockery, linen, clothes, leather goods, jewellery, 'designer' sunglasses, handbags etc.
Useful Places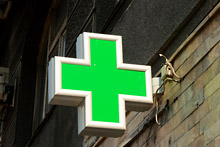 Chemist (Pharmacy) - can be identified by a prominent (and usually flashing) green cross sign. Chemists in Spain are trained to diagnose and treat many common illnesses and complaints. So before going to the doctor try seeing the Chemist first. Most staff will speak some English and there is always one Chemist open 24 hours in every large town.

Tourist Office - is located on Ave. San Lorenza at the junction of Ave. Juan Carlos and the seafront promenade. It is positioned facing the seafront promenade and next to the office of Crazy Golf. Open 09.00 to 14.00 and 17.00 to 20.00 Monday to Friday and on Saturday mornings. Tel: 952 80 20 02
Email: Estepona Tourist Offce ; Visit: Estepona Tourist Office

Post Office - the main office is on the promenade near the centre of the old town.