Estepona Villa & Apartment Offers & Late Deals
Please note that November to March we can offer ANY changeover day and ANY duration i.e 8, 9, 10 nights etc at most of our properties. We can also offer ANY changeover day & ANY duration at most of our properties throughout the rest of the year (minimum 4 nights) provided your request fits in with other bookings - please check this with us first before booking flights.

To work out the price simply pro-rata the weekly rate ... for less than 7 nights we bill 1 extra night to cover the overheads ... i.e. 4 nights are charged as 5 nights, 5 nights charged as 6 nights and so forth. For 7 nights and over we charge just for the actual number of nights booked. Please note that offers are for a minimum of 7 nights unless otherwise stated.

The availability shown is live and accurate!


This page contains 1 villa and 4 apartments
Tip: You can change the filter the results on this page using the options above and change the dates using the search box >
Please do not book flights until you have received a confirmation email of your booking.
£1350 - £2495 per week
€1647.00 - €3043.90 per week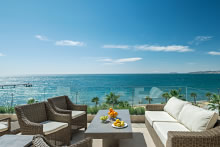 Large outdoor pool
On site gym
Sleeps 6 in 3 bedrooms
(3 x king)
2 x bathrooms, 1 x shower room
Fully air-conditioned
WiFi ADSL Internet
This exclusive beach front development of 13 luxurious apartments enjoy the most amazing uninterrupted sea views. Set in Mediterranean gardens and only a short walk to Estepona Port. Fantastic for an all year round vacation with a beautiful outside pool, direct access to the beach and indoor spa.
£945 - £2045 per week
€1152.90 - €2494.90 per week
Special Offer September 3 - 12, 9 nights for the price of 8, £1822.86 (list price £2050.71). May 28 - June 4, 7 nights contact for details.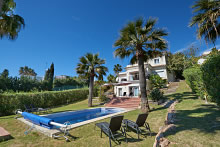 Private pool
Sleeps 7 in 4 bedrooms
(2 x super king, 1 x twin & 1 x single)
2 x bathrooms, 1 x shower-room
Air-conditioned (except single bedroom)
Wi-Fi ADSL Internet
Walkable to the beach
Casa la Colina - A stunning, Nuevo Andalucian style villa with fabulous views of the Mediterranean sea. This Villa is something rather special for your relaxing vacation. Located a 10 minute walk to Areana Beach and just 3km from Estepona Marina & 4 km from the well known La Rada beach.
£950 - £1595 per week
€1159.00 - €1945.90 per week
Special Offer For a maximum of 6 guests: May £1050 pw (list £1295); June £1100 pw list (£1295)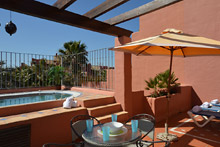 2 x pools (shared)
Private Jacuzzi (heated)
Indoor heated pool, Gym & sauna
Sleeps 8 in 3/4 bedrooms
(2 x doubles, 1 x twin & 2 x sofa beds)
2 x bathrooms, 1 x shower-room
Fully air-conditioned
WiFi ADSL Internet
Walkable to the beach
A superb penthouse apartment perfectly located for the beach.

This property boasts a private Jacuzzi on the terrace and exotic gardens overlooking the Mediterranean. Just a short walk away is the beautiful TikiTano restaurant and Heaven beach restaurant.
£795 - £1395 per week
€969.90 - €1701.90 per week
Special Offer September 10 - 16, 6 nights £795

Shared Pool
Sleeps 6/8 in 3 bedrooms
(2 x doubles, 1 x twin & sofa bed in the lower lounge)
2 bathrooms & 2 cloakrooms with WC
A/C (all bedrooms)
WiFi ADSL Internet
Family friendly location
300 meters from the beach and marina
Direct access from Belgravia to beach area
Perfect for a car free holiday
A spacious 3 bedroom townhouse located at the Belgravia Club ... a car free location.

Estepona Marina with its large selection of international restaurants and the the lovely El Cristo beach are all with in easy walking distance.
£695 - £1095 per week
€847.90 - €1335.90 per week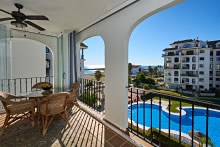 Shared pool x 4
Sleeps 6 in 2 bedrooms
(1 x super king, 1 x twin & a sofa bed)
x bathroom, x shower-room
Fully air-conditioned
WiFi ADSL Internet
Beach within walking distance
Restaurants within walking distance
A beautifully decorated apartment at Marina de la Duquesa. A sought after front line beach development walking distance to the beach and the quaint port little Port of Duquesa which enjoys a wide selection of International restaurants and local cuisine for you to sample. Perfect for a car free holiday.
How to make a reservation:
To make a reservation please click the link "Book this Property" which you will find on the villa page that you are interested in. We will then hold the property for you for 7 days whilst you pay your deposit, organise flights etc, please do not book flights until you receive confirmation that the dates for the property you require are still available. Our address, details on deposit etc are all on the reservation form.

Payment can either be made by cheque or bank transfer (payable to Estepona Villas Ltd) in £Sterling, debit card or credit card (please note there is no transaction surcharge for paying with a debit or a credit card). We accept all major cards except Laser, American Express & Diners, all card transaction will by billed in GBP and converted to your local currency by the card issuer at their prevailing rate.

Once we receive your booking form and deposit we will send you an acknowledgement confirming your reservation and detailing when the balance will be due. Key instructions, directions, local contact details etc will all be sent to you 4 to 5 weeks prior to your arrival in Spain. Please let us know if you have any questions.

Check in/out times:

Please note that check in time is after 3pm and check out is by 10am.