Activity in estepona
Back to list
Sailing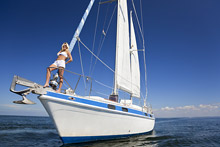 Reviews
These are the views of visitors to this site and are not necessarily the views of Estepona Villas Ltd.
Write a review of Sailing
"Sailing"
- review by Matt, Cardiff, UK
We chartered Johan and his yacht for a day recently and although the sea on the day we booked it for was a bit choppy we has good fun. The boat is a fairly modern cruiser and Johan a very accomplished skipper. We were encouraged to get involved and tacked our way towards fuengirola, had lunch and sailed back.