Restaurant in estepona
Back to list
Le Petit Paris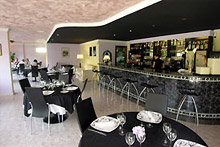 Edf. Marina Bay
Avda. de Espana
Estepona
Reviews
These are the views of visitors to this site and are not necessarily the views of Estepona Villas Ltd.
Write a review of Le Petit Paris
"Excellent and different"
- review by Deanna Dawson, Estepona
I have enjoyed Le Petit Paris on a number of occasions, having initially been recommended by friends who enjoy a high standard of culinary arts. It has a delightful ambience, interesting, well presented meals, and a warm, welcoming staff. Last night I was invited to a Christmas Party, to be Celebrated at the Petit Paris, and I was most impressed by their ability to present an excellent meal under the demanding circumstances of many tables all at once, and maintaining the high standards they set themselves. The meal was delicious. It is a pleasurable restaurant and I highly recommend it.