Restaurant in estepona
Back to list
Casa de mi Abuela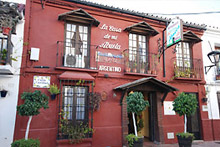 Calle de la Caridad, 54
Estepona
Reviews
These are the views of visitors to this site and are not necessarily the views of Estepona Villas Ltd.
Write a review of Casa de mi Abuela
"The best steaks....ever!"
- review by Steve & Laura, Surrey, England
this is not only the best steak house in Estapona but the best steakhouse I have ever eaten at. We ate here in 2009 I had T-bone that must have been at least 24oz the meat was full of flavour and melted in my mouth, I ate every piece even the fat that ran the edge of one side was like butter I can't express how good their steaks are..My partner had the fillet easily 16oz and cooked to perfection on there charcoal grill (both medium rare off course). We came back last year 2014 and thank the gods it was still there, five years had passed and although we searched we had never found a better steak not even close for up to three times the money!!
We sat full of expectation we ordered exactly the same as last time....... It was amazing ,the best steaks we had ever eaten again. We will be going back in July and we can not wait it's not just our food highlight
It's a holiday highlight! Roll on July ??