Places to visit in estepona
Back to list
Bolonia - Baelo Claudia Roman Ruins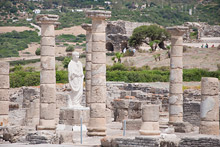 To get to Bolonia, follow the E5 (N340) in the direction of Cadiz, and take the turning to your left marked Bolonia. Follow the signs to the Ruins.
Reviews
These are the views of visitors to this site and are not necessarily the views of Estepona Villas Ltd.
Write a review of Bolonia - Baelo Claudia Roman Ruins
"Amazing Roman ruins near stunning beach"
- review by david Barker, Estapona
Beautiful ruins of ancient Roman village,trading port and fish salting site near the beautiful beaches of Balonia good small museum large easy to access site with amazing Roman architecture. Free. To enter for EU visitors a good 2 hour visit